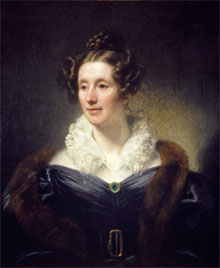 Portrait of Mary Fairfax Somerville, by Thomas Philips. Oil on canvas, 1835. Courtesy of the Scottish National Gallery
Somerville
Mary Somerville (26 December 1780 – 28 November 1872) was a science writer and polymath. Her treatise On the Connexion of the Sciences, published in 1834, was one of the first systematic accounts of physics, astronomy, and the Earth sciences, and aimed to show the essential unity of terrestrial and astronomical science. The term 'scientist' was first coined by Whewell in his review of her publication. James Clerk Maxwell cited it as one of his formative influences. Her discussion of a hypothetical planet perturbing Uranus, in the 6th edition of On the Connexion of the Physical Sciences (1842), led Adams to look for and discover Neptune.
Somerville also rendered accessible the Mécanique Céleste of Laplace in her The Mechanism of the Heavens published in 1831, in which she was able to state much of its content without use of the calculus.
She was born Mary Fairfax at the manse of Jedburgh, in the Borders, Scotland. She grew up in Burntisland, Fife. She had little formal education, as was customary for women of her time, and was largely self-taught. Whilst discouraged by her family and her first husband, Samuel Grieg, from study, on his early death she obtained an allowance that enabled her to pursue her interests in science. In this she was encouraged by her second marriage in 1812 to Dr William Somerville, inspector of the Army Medical Board. Together with Caroline Herschel she became a member of the Royal Astronomical Society in 1835, the first women to do so. Somerville College, Oxford, was named after her.
Links
Catelogue of the Mary Somerville Collection, Bodleian Library, University of Oxford >
Project Guttenberg. Mary Somerville: Personal recollections, from early life to old age >