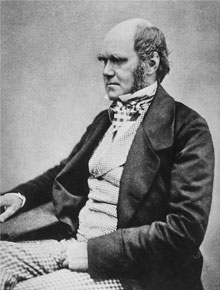 According to his son Francis, this portrait of Charles Darwin is by Henry Maull and John Fox, and was probability taken in 1854, shortly before the publication of the On the Origin of Species.
Darwin
Charles Darwin  (12 February 1809 – 19 April 1882) was, together with Alfred Russell Wallace, the originator of the theory of natural selection. His book On the Origin of Species is possibly the most important scientific publication of the 19th or indeed of any other century. In it he provided detailed evidence for the evolution of species from common ancestors, providing the first scientific theory of how complex living organisms could have arisen from much more primitive life-forms. Although he had little to say on the ultimate origins of life, it was for the first time possible to understand how biological systems should have developed in accordance with chemical and physical laws. In this sense Darwin laid the foundations of all the life sciences. The concept of evolution through selection has subsequently been applied in a host of other scientific arenas, including, by Lee Smolin, the evolution of the universe itself, as a way of explaining the apparent fine-tuning of the universe for the sustaining of complex systems.
Darwin was born in Shropshire, England, the son of a wealthy physician and financier and grandson of prominent abolitionists, Erasmus Dawin and, on this mother's side, Josiah Wedgwood. He was educated at Edinburgh Medical School and Christ's College, Cambridge, where he was befriended by John Stevens Henslow, clergyman, botanist, and geologist. It was Henslow who suggested Darwin take up the position of naturalist on the H.M.S. Beagle, on the voyages of which Darwin gathered much of his evidence for the theory of natural selection. Wallace discovered the theory independently of Darwin: it was published under their joint names in the Journal of the Linnean Society of London in 1858, the year before the publication of On the Origin of Species.
Links
Darwin online: the Complete Works of Charles Darwin >
Stanford Encyclopedia of Philosophy: Darwinism >
Stanford Encyclopedia of Philosophy: Evolution >
Multimedia
LibriVox: On the Origin of Species >